{"title":"ONLINE COURSES","show_title":"0","post_type":"course","taxonomy":"","term":"0","post_ids":"2337, 9697, 8511","course_style":"random","featured_style":"course7","masonry":"","grid_columns":"clear3 col-md-4","column_width":"330","gutter":"30","grid_number":"3","infinite":"","pagination":"1","grid_excerpt_length":"40","grid_link":"1","css_class":"","container_css":"","custom_css":""}
About The Principles & Standards Online Career Course Budtenders and Patient Advisers are responsible for showing and delivering products to …

TAKE THIS COURSE

$

229.00

 The Herbal Risings online Budtender Certificate Course delivers core concepts and tools to be an effective patient consultant. The course's 6 modules, which can be taken anywhere and at any time, delve into core concepts in such areas as: flower classifications, edibles, patient care standards and best practices, and an introduction to concentrates.

TAKE THIS COURSE

$

99.00
CERTIFICATE OPPORTUNITIES
HERBAL RISINGS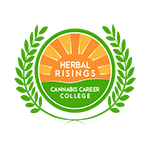 SELF-GUIDED
Futher your education online. Invest in yourself with an Herbal Risings Certificate.
Attend our in-person group workshops or enroll in self-guided online courses.
Subscribe our newsletter
Be the first day know about new courses, get important updates, and enroll in special offers when you subscribe to our newsletter. Enter your email address here.
Join the Herbal Risings Affiliate Network