Herbal Risings Marijuana Career College
Your Journey Starts Here.
Every successful journey begins with passion. It's what motivates us. In other words, it's what inspires us to keep going. Passion is the fuel that drives our success. However, it is important that we're also equipped with the right tools and knowledge to help us get there. Herbal Risings is all about celebrating the passion and the culture of the legal marijuana industry. From this, we do our best to empower others to forge successful career opportunities in budtending through an industry-created program. Herbal Risings Marijuana Career College is a creation of Net Tech Way, a business design company, designed to bring you a robust training curriculum desired by aspiring dispensary recruiters around the world!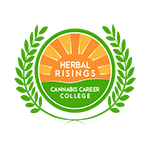 Herbal Risings Marijuana College & Dispensary Training Program
Take an Herbal Risings online course. Boost your knowledge. Earn bragging rights. 
Students enrolled in courses
onlines courses; video courses, read & retain courses
years hosting dispensary training, seminars and workshops
Our program was born out of years of experience of some of the best industry agents. Our program was designed inside dispensaries across the country and cultivated through direct work with patients, human resource departments, management, and board directors.
As a result, we bring with us firsthand knowledge of the legal workings behind local and federal marijuana programs.
Simplified learning. Choose the course that's right for you! Expand your knowledge, build your skillset, or boost your career with an Herbal Risings course certificate.
Drawing from experience and direct knowledge, we equip you with the tools and education you need to forge a successful career path as a budtender. After that, we'll help you cultivate the passion behind your journey and bring the knowledge you need to succeed.
Don't let your passion waste away. With the Herbal Risings Marijuana College curriculum and training, we'll make sure it doesn't. We believe that proper education can lay a better foundation for those who want to pursue a career. To summarize, we can help create better experiences for everyone enjoying the uses and benefits of marijuana. Welcome to Herbal Risings Marijuana Career College.
Your journey starts now!